Hello everyone, and Happy New Year. :3

I'm just stopping by to let you know about
epiclyintense, the JRock graphics community.
We're currently doing our best to become really active, and we need your help~!
We need graphic makers and lovers alike to make our community successful, so please, come and take a look!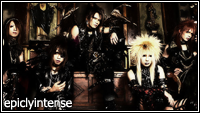 All you have to do is click the link and Join~
Easy, right?

NOTE:
We are currently working on putting up a new layout, so don't worry about the messiness of the current one. :3
There is also a post in which you can suggest bands to put on a layout, so go check that out and suggest your favorite band!

Thanks very much. :3

X-Posted Everywhere. xD